THE CHURCH OF GOD IN
North Carolina
THE CHURCH OF GOD IN
North Carolina
WMSCOG Online Worship
Visit worship.watv.org to watch a sermon video.
Known as the Old North State, North Carolina was the first state to vote for independence from Great Britain, leading to the Revolutionary War. And, later on, it was one of the first to secede from the United States, beginning the American Civil War. In 1903, North Carolina was also home to the Wright Brothers' first powered airplane flight in Kitty Hawk, North Carolina. Now, the light of the gospel has shone on North Carolina with the establishment of the Church of God.
Donors from Charlotte and Durham participated in the 2018 Mega Blood Drive. They donated enough blood to save up to 75 lives.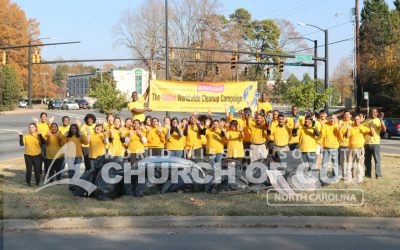 Members from Charlotte and Durham carried out "Mother's Street" cleanups at local streets and parks. The movement took place in 175 countries and 6,000 regions simultaneously.
Church of God volunteers removed trash from two fields on each side of Scott Futrell Dr. They cleaned up the area, which is by Charlotte Douglas International Airport, to brighten up their community.